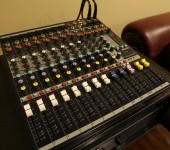 About Our Rehearsal Studio
At Rapture Sound Studio located in Nassau County, Long Island we provide the best rehearsal spaces for jamming out. Whether you're looking to have fun with some friends or prepare for a serious gig we've got you covered. All of our rehearsal rooms are equipped with top of the line speakers, amplifiers, drums and more. Each room has its own individual perks and is created to cater to your individual rehearsal or performance needs. Here you can learn about some of the equipment we use in each of our rehearsal studio rooms.
Making the decision to practice or create music in a rehearsal studio is what takes your band or indvidual artistry to the next level.
---
All of our drum sets are perfect for hitting the right tones. We fill our studio spaces with Yamaha Drums Sets because of their low and warm tones. The other drum sets we provide in the studio is Ddrum Reflex Series, the Reflex Series drums are made from 100% alder shells.
Drum Sets We Provide In the Studio:
Ddrum Paladin Maple Drums
Ddrum Reflex
Drums – Yamaha Stage Custom Birch Set
Our professional speakers in the studio mainly consist of the Live X Series and JBL speakers. The Live X speakers was created to provide the ultimate professional music performance. Using our Live X Speakers is sure to give you the EV-quality experience so many music artists want. Our JBL speakers located in the studio provide upper woofers which cover lows and miss and the lower woofers strictly cover lows. JBL speakers are built to last and will provide quality sound systems for years.
Speakers We Use In Our Studio:
Electro-voice Live x Speakers
JBL Speakers (15″)
Another great piece of studio equipment is our Ashdown Amplifiers which combine good clean powerful audio with quality sound. Choosing to stock our Long Island Rehearsal Studio with Ash down amplifiers was easy because we know this brand is every professionals amplifier of choice. Not all amps are created equally but Ashdown never fails to let you down with their quality clean, warm and overdriven tones.
Amplifiers We Stock In Our Studio
Ashdown ABM 500 Bass Amp
Ashdown Rootmaster Bass Amp
Are you in need of a creative studio environment that provides top of the line musical performance equipment? Look no further, Rapture Studios has been filling up extremely fast since our Syosset, Long Island opening back in June.