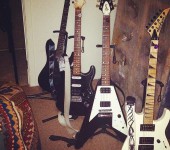 August 11th: This Day in Music History
1956 – Elvis Presley Sets the Record
Elvis Presley's double sided hit 'Don't Be Cruel / Hound Dog was released. The single went to No.1 on the US chart, where it stayed for 11 weeks – a record that would not be broken until 1992's Boyz II Men hit 'End of the Road'.
1966 – John Lennon Apologizes…sort of
At a press conference held at The Astor Towers Hotel in Chicago, John Lennon apologised for his remarks that The Beatles were 'more popular than Jesus'. Lennon told reporters "Look, I wasn't saying The Beatles are better than God or Jesus, I said 'Beatles' because it's easy for me to talk about The Beatles. I could have said 'TV' or 'Cinema', 'Motorcars' or anything popular and would have got away with it''.
1979 – Zeppelin Says Goodbye to the UK
Led Zeppelin played their last ever UK show when they appeared at Knebworth House, England. The set list included: The Song Remains The Same, Celebration Day, Black Dog, Nobody's Fault But Mine, Over The Hills And Far Away, Misty Mountain Hop, Since I've Been Loving You, No Quarter, Hot Dog, The Rain Song, White Summer/Black Mountainside, Kashmir, Trampled Under Foot, Sick Again, Achilles' Last Stand, In The Evening, Stairway To Heaven, Rock And Roll, Whole Lotta Love and Communication Breakdown.
1999 – Kiss Gets a Star
Kiss arrived on Hollywood Boulevard to unveil their star on The Walk Of Fame. The band had released over 30 albums and sold over 80 million records world-wide.
1999 – Solar Eclipse Sparks 4 Festivals
Four music festivals took place in Cornwall, England for the full solar eclipse. James, The Levellers, Van Morrison, Kula Shaker and the Happy Mondays were all appearing at various events.