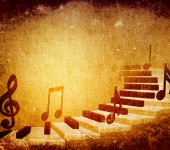 December 15: This Day in Music History
1956 – Elvis Leaves The Building
After 50 appearances on the Louisiana Hayride, live radio show Elvis gives his final performance. Right at the end of the show, Horace Logan states the ever famous line, "Elvis has left the building."
1969 – John Lennon Plays Final UK Gig
During his appearance at the Lyceum Ballroom in London, John Lennin performs with the Plastic Ono Band. This performance was during the "Peace For Chrismtas," Unicef benefit where Bonnie Billy Preston, George Harrison, Eric Clapton and Delany also performed.
1977 – Sex Pistols Denied Entry Into United States
A few days before the Sex Pistols were booked to appear on NBC television, all four members were denied access into the country. Prior drug convictions kept Johnny Rotten out, Steve Jones because of his criminal record and both Sid Vicious and Paul Cook denied due to "moral turpitude."
2003 – Courtney Love Sentenced To 18 Months In Rehab
After admitting to being under the influence of both cocaine and opiates Courtney Love was sentenced to 18 months in rehab. Part of her sentence included her not being allowed to take non-prescription drugs, drink alcohol or be present in any establishments serving alcohol.
2008 – Madonna Pays Former Husband £50
After reaching an agreement Madonna pays her ex-husband Guy Ritchie £50 million pounds for their divorce settlement. The 50 million pounds included the value of their shared home in Ashcombe, England. Although finances were settled at this point child custody was still up for negotiations.