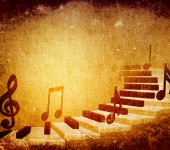 December 9: This Day in Music History
1961 – The Beatles Are Put Of Town For Rowdy Behavior
After The Beatles agent failed to properly advertise their show in Aldershot, England the show has a very small turnout of just 18 people. The Aldershot news did not public the performances ad in the newspaper but The Beatles decided to have some of their own fun after the show. This included a pretend funeral for Paul McCartney.
1967 – Jim Morrison Gets Sprayed With Mace
During an appearance by The Doors in New Haven Connecticut Jim Morrison gets caught by police office hooking up with an 18 girl in the shower. This caused the office to spray him with mace, in return Jim jumps on stage and makes fun of the police, causing him to get pulled off stage. The crowd starts a riot which follows all the way to the police station, where more arrests later occurred.
1978 – Sid Vicious Behind Bars
After Sid Vicious of the Sex Pistols, attacks singer Patti Smith's brother, he was arrested at Hurrah Dance club in New York. This arrest landed him in Rikers Island for fifty five days causing him to have a severe detox.
2001 – Madonna Curse on Live TV In London
Channel 4 TV makes a public apology after Madonna says "motherfucker," at the Tate Gallery in London. Although the TV station had a bleeping system they failed to catch this one, this all happened while Madonna presented a prize to Martin Creed.
2003 – Ozzy Osbourne is Admitted to Wexham Park Hospital
After a rough quad accident in his UK home, Ozzy Osbourne broke his collarbone, eight ribs and vertebra. The 55 year old singer received a good will message from the house of commons immediately following the accident.