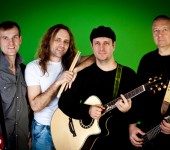 How To Start Your Own Band
Are you looking to turn your musical talents into a career? Or are you just looking to exercise your musical talents with a group of people who share the same creative minds? Either way this blog post brought to you by Rapture Sound Studios, Long Island's top rehearsal space will help you get started with forming your own band.
When starting your own band there are a few specific requirements you need to make yourself legit. There are plenty of bands out there waiting to make it big, but it's important you understand what makes your band professional.
---
Requirements for Starting a Band
Musicians
Instruments
Rehearsal Space
After satisfying these basic needs you'll be ready to form a band and start landing some gigs. If you already have the basic band requirements you can skip ahead to the next tips for starting a band.
Come Up With a Name For Your Band:
Every band needs a band, if you don't have a name there's no way to identify and market yourself. No one wants to hire the nameless band. Perhaps you have some potential names, keep in mind the more catchy and relatable the name, the more likely you are to be remembered.
Get the Right Equipment:
Getting your hands on the right equipment will allow your band to sound great and appear more professional. Important equipment includes power amps, speakers and recording devices. You'll also need microphones along with your basic instruments (drums, guitars etc.)
Write Music:
Creating your own original music is an important part of turning yourselves into a real band. Real bands create their own content and use it to be discovered.
Find a Professional Rehearsal Space:
Practice, practice, practice. Why do you need a rehearsal space? By practicing in a rehearsal space or recording studio you will be able to perfect your music, sound better and be more confident. Studies have shown bands who practice in rehearsal studios perform better and take themselves more seriously.
Market Yourself:
Once you have a name, reliable musicians and some recorded music you'll be ready to share this with anyone who's willing to listen. The internet is a great place for bands to market themselves. Using the internet to advertise your services, network with other musicians and share your music with potential fans is a great start. Create custom social media pages for your band and keep track of what other bands do to make themselves successful.
---
Following all these steps will allow you to make your band a success. These steps should be repeated over and over again. As a successful band you never want to stop creating, practicing and recording.
Do you currently have a band but nowhere to rehearse or jam out? Stop by Rapture Sound Studios located in Syosset, Long Island. We provide a creative environment where musicians can network and create hits. Our rehearsal studio is open to all artists looking to create music and have a good time.