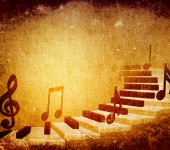 January 12: This Day In Music History
1969 – Led Zeppelin Releases First Album
After a total of 36 hours in the studio Led Zeppelin releases their first album which top the UK charts for over 71 weeks. All together the production of the album cost the members roughly 1782 pounds.
1977 – Keith Richards Charged With Drug Possession
After getting into a car accident lead guitarist of Rolling Stones Keith Richards was charged with possession of cocaine. He received a fine costing him $1,275.
1993 – Van Morrison Skips Rock and Roll Hall of Fame Induction
After being inducted into the 1993 Rock and Roll Hall of Fame Van Morrison misses the dinner and becomes the first living inductee to miss the ceremony.
2001 – Oasis Lead Singer Causes Chaos On A Plane
Lead singer Liam Gallagher caused trouble on his flight from London to Rio De Janeiro. This included grabbing the stewardess' ass, smoking cigarettes after being asked to stop and throwing stuff around the cabin.
2007 – Toni Braxton Sues Former Manager
Toni Braxton filed a lawsuit against former manager Barry Hankerson for fraud, deception and double dealing. Barry Hankerson allegedly put his own interests above Toni's and the lawsuit was for a total of $10 million dollars.