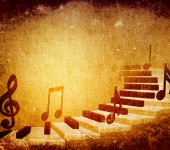 November 24: This Day in Music History
1966 – The Beatles Reconvene For The First Time After Summer Tour
The Beatles get together and prepare to create their next album starting with John Lennon's famous 'Strawberry Fields Forever.' After spending time apart after their United States summer tour the legends of rock are back in the studio ready to record their next big hit.
1968 – Diana Ross Knocks The Beatles Off Top Spot
Diana Ross and The Supremes hold down the top U.S. charts spot with their hit single 'Love Child.' At the time The Beatles, just mentioned above, we're fighting for the top spot with their killer hit single 'Hey Jude,' they didn't reach No. 1.
1983 – The Undertones Split Up
The Irish music group Undertones splits up and lead singer Feargal Sharkey goes off on his own. As a solo artist Feargal Sharkey hits the No. 1 SPOT OF UK charts with hit single 'A Good Heart.' Soon after Feargal moves on to become the head of UK Music, an organization that represents the commercial music of the UK music industry.
1984 – Drummer from Motley Crue Get Married
Model Elaine Margaret Starchuk, also known as Candice marries drummer Tommy Lee, the marriage ends after one short month. Tommy Lee previously married two other celebrities Heather Locklear the actress and retired Playmate Pamela Anderson.
2007 – Red Hot Chili Peppers House Burns Down
After a wildfire brushes through Malibu the Red Hot Chili Peppers bassist, Flea loses his $4.8 million dollar property. The property was completely burnt long with 54 other Malibu properties.