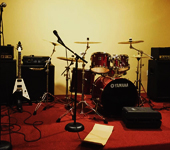 October 20: This Day in Music History
1957 – Elvis Presley make Guest Appearance
Elvis Presley along with Bill Haley and his Comets made a guest appearance at Brooklyn High school of Cleveland, Ohio.
1973 – The Rolling Stones hit "Angie," Fly's straight to the top.
Angie, one of the Rolling Stones chart toppers went straight to the top after being recorded in 1973.
1977 – Lynyrd Skynyrd Southern Rock Band Killed in Plane Crash
This legendary southern rock band was on their way to perform at Louisiana University, when suddenly the plane ran out of fuel, causing a crash landing. The crash killed Ronnie Van Zant, Steve Gaines, Cassie Gain and Dean Kilpatrick. The remaining band members and passengers were left seriously injured.
1983 – Merle Travis Dies of Heart Attack
At the age of 65 country western singer Merle Travis dies of heart attack. Merle Travis one a very praised American guitarist was famous for songs such as "sixteen Tons," as well as his 1953 movie appearance performing "Reenlistment Blues."
2005 – Michael Jackson at it Again
Immediately after being absolved of child molestation charges Michael Jackson receives another summons at his Neverland Ranch. During this period of time Michael Jackson was living in Bahrain and would likely be discharged from serving.