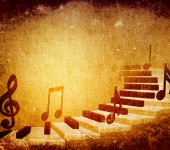 October 27: This Day in Music History
1964 – Caesar and Cleo Become Sonny and Cher
In 1964 Salvatore Philip Bono marries Cherilyn Sarkisian La Piere. Shortly after marriage they change their performance names to Sonny and Cher.
1977 – First Spanish Female Duo to Receive a UK No. 1
Baccara, a female duo famous for the single "Yes Sir, I can Boogie," tops the UK singles chart. They were first ever for being both a female duo and Spanish performers.
1977 – Roy Estrada Convicted of Sexual Assault
Roy Estrada, the founder of Little Feat was convicted of sexual assault with a child. After serving six years he pleaded guilty to another child abuse case where he was sentenced to 25 years in prison with no parole.
1980 – Steve Took Chokes to Death
Steve Took a former member of T Rex and the Deviants choked to death after eating mushrooms. The psychedelic mushrooms caused him to loose feeling in his throat and choke on a cherry stone.
Adam Clayton from U2 Convicted of Drunk Driving
After being caught driving double the speed limit Adam Clayton was convicted of drunk driving in Dublin Ireland. This caused him to pay a fine and lose his driving privileges for one year. Fun Fact: One year prior this same day was the world wide premier of the groups film "Rattle and Hum."