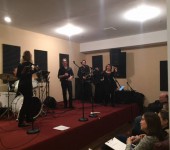 Rapture Studio's Opens New Sound Stage Rehearsal Room
Rapture Sound Studios, Long Island's best rehearsal space is excited to announce our most recent expansion. We've created a brand new showcase room perfect for allowing potential clients to receive a sample of your music. Showcase rooms are used for inviting guests to hear you performance before booking you for an event.
---
About Our New Showcase Rehearsal Room
Our showcase room was built because of the need for wedding bands and other entertainment groups to have a place where they can allow clients to experience first hand the quality of the band or entertainment group. Choosing to have your band rent space in our new showcase room, is a great way to demonstrate professionalism for your potential clients and audience. Many bands have noticed an increase in landing new gigs when inviting clients to hear their material in a rehearsal or showcase room.
This added rehearsal space is not limited to just bands, songwriters or producers looking to rent a studio space to showcase their music. Our new addition can also be used a sound stage for regular band rehearsals or for anyone looking for a larger space to jam out. Whether you're a newbie looking to start a band or an established band this space can help you practice your skills.
Why Should You Reserve Studio Time In Our New Showcase Room?
The best part about our new showcase rehearsal room is the size, it gives you double the amount of space for an affordable price.
Rapture Sound Studios can provide any equipment we have available upon request. We have a large selection of high quality sound systems in order to provide the best possible music rehearsal experience. To step our game up a bit more we've created sound proof walls using top notch padding materials.
Rapture Sound Studio's of Syosset Long Island is now accepting reservations to book our brand new room. For more information give us a call at (516)433-0070 or send us a message through our contact form.