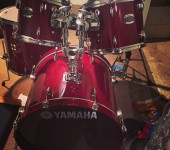 September 4th: This Day in Music History
1962 – The Beatles First Formal Recording Sesh
The session took place at EMI's Abbey Road studios. George didn't like the previous session on June, 6th and called the rest in to try again. They recorded six songs, including 'Love Me Do' and 'Please Please Me.'
1969 – "Easy Rider" Premiers
The movie starring Jack Nicholson, Dennis Hopper, and Peter Fonda opened the The Classic in London. The soundtrack featured Steppenwolf, The Band, and The Jimi Hendrix Experience.
1972 – Wishbone Ash: Refuse a Sandwich, Get Killed
Francisco Caruso refused to give a fan a free sandwich and was killed during a Wishbone Ash concert in Texas.
1976 – The Sex Pistols Make a TV Debut
The Sex Pistols made their debut appearance on "So It Goes' – a Manchester-based TV program.
1982 – Rocky III Puts Survivor at No. 1
"Eye of the Tiger" tops the UK Charts at No. 1. This was Survivor's ONLY chart topper. They also won a Grammy for Best Rock Performance for the song, which was featured in the film Rocky III.
1996 – Oasis Sparked Outrage for Something Stupid
During the performance of "Champagne Supernova," the Oasis singer spat on stage and threw a beer into the crowd. This was during an MTV awards held at Radio City Music Hall. Apparently, this was enough to spark an outrage.
2012 – One Direction (Not the Boyband) Sues…and Lost
A US punk band with the name One Direction sued the UK boyband for calling themselves One Direction. Even though they had the name first, One Direction (US punk band) now goes by the name "Uncharted Shores."