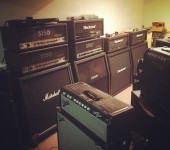 10 Band Rehearsal Tips to Get the Most Out of Your Time
Ensuring that you get the most out of your band's rental room can save you time, money, and relationships. Band rehearsals have the potential to become a major time waster, and time is money when you are an up-and-coming band. From endless tuning to failing to turn phones off, bands have a hard time accomplishing what they need to when they rent a rehearsal space.
Rent one of our rehearsal rooms at Rapture Sound Studio of Syosset, NY and you can put these rehearsal tips to the test!
1. Plan
Decide who is doing what and who is bringing what. You want to be sure you have everything you need to have a complete rehearsal. Our rehearsal rooms are all equipped with state of the art drum kits, amps, speakers, stands and more. Be sure that if there is anything else you need, you have it with you! Some things we have seen other clients bring are pen and paper, a recording device, and extra strings/sticks/picks.
2. Organize
Also organizing your time into well structured time slots can be helpful. Say you have rented a rehearsal studio for two hours… you can plan on a 30 minute warm up, 45 minutes to adjust songs, and 45 minutes to run your set. Stick to this, and you will know that you covered everything and it will also push you to get things done in the amount of time that you have paid for the rental.
3. Rental Spaces are for Band Rehearsal, Not for Instrument Practice
Every member should be practicing their instruments and their parts on their own time. Band rehearsal is meant for perfecting your overall performance and getting ready to cut a record.
4. Focus
Pretend that you and your band members in the rehearsal room are the only things on the planet. Turn off phones and don't bring your friends, significant others, or groupies. When you rent a rehearsal space at Rapture, this is your time to perfect your craft. Although we understand that you would want other people's opinions, that's not what your band rental time is for. Trust your instincts and your band members. There will be other opportunities for feedback!
5. Don't Force It
If a song isn't working and you are spending too much time on it, just let it go. You can always shed it on your own time. It is important for a songwriter to learn how to let go and let the songs flow organically. You don't want to waste your time and money working on something in our rehearsal studio that just isn't quite ready to come together.