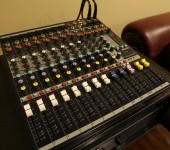 October 12th: This Day in Music History
1957 – Little Richard Temporarily Replaces Rock with God
Little Richard dreamed of his own damnation after a plane he was on caught on fire and decided to trade in the rock 'n' roll for God. He launched a Gospel career and threw some jewels in a river to represent a pious turnaround. Five years later, he went back to rock.
1969 – Paul McCartney is…Dead?
The worldwide rumor that Paul was dead started when a Detroit radio station received a call saying that if you play "Strawberry Fields Forever" backwards, you hear John Lennon say "I buried Paul."
1978 – Nancy is Stabbed, Sid is Arrested
After calling the police saying his girlfriend Nancy was stabbed, Sid Vicious was arrested and charged with her murder. He was placed in a detox unit in a New York prison and died of a heroin overdose before the case ever went to trial. The story of Sid and Nancy is still a mystery.
1994 – Pink Floyd Apologizes with a T-Shirt & a Note
During "Shine On You Crazy Diamond," a scaffolding collapsed throwing hundred of people 20 feet to the ground. 96 were injured, with 366 needing hospital treatment. The band sent a t-shirt and an apology note to every fan that was seated there.
1997 – John Denver Killed in a Plane Crash
A handmade, experimental plane John Denver was flying ran out of gas a crashed off the coast of California. He died as a result of the crash at age 53.